This project is sponsored by Erasmus+
Look out for a call to this exciting training course! In the end of February we will be kicking off honest and open discussions about hate speech and harassments over internet, in collaboration with our Italian colleagues. Part one with youth workers in February 21-28, part two with young people, in May 7-14.
Contact us if the topic is close to your heart and tell exactly how and why; also, how you would like to improve your skills regarding net hate prevention and countering. Several spots will be available for our leaders so be quick to become one!
Cyberbullying is an issue widely debated in current society. The increase in online content sharing maximised its influential power; within the global trends exploiting this wave, the diffusion of distorted standards about aesthetic, body image and shape. Therefore, people face discrimination and victimization because of their physical appearance, falling within the definition of body shaming. DiscriminHate NoBody (DHNB) project wishes to draw attention on body shaming at European level, aiming to raise awareness and to disseminate empathic behaviour in order to counter every form of bullying and negative judgement addressing physical appearance.
Specific objectives of the project activity are:
-To provide youth workers with knowledge, skills and tools to raise awareness on the phenomenon of body shaming as a form of cyberbullying, its causes and its social consequences;
-To stimulate engagement in implementing concrete actions to sensitize and to contrast body shaming;
– To foster active citizenship in the direct target group of youth workers and the ultimate target group of youth and society.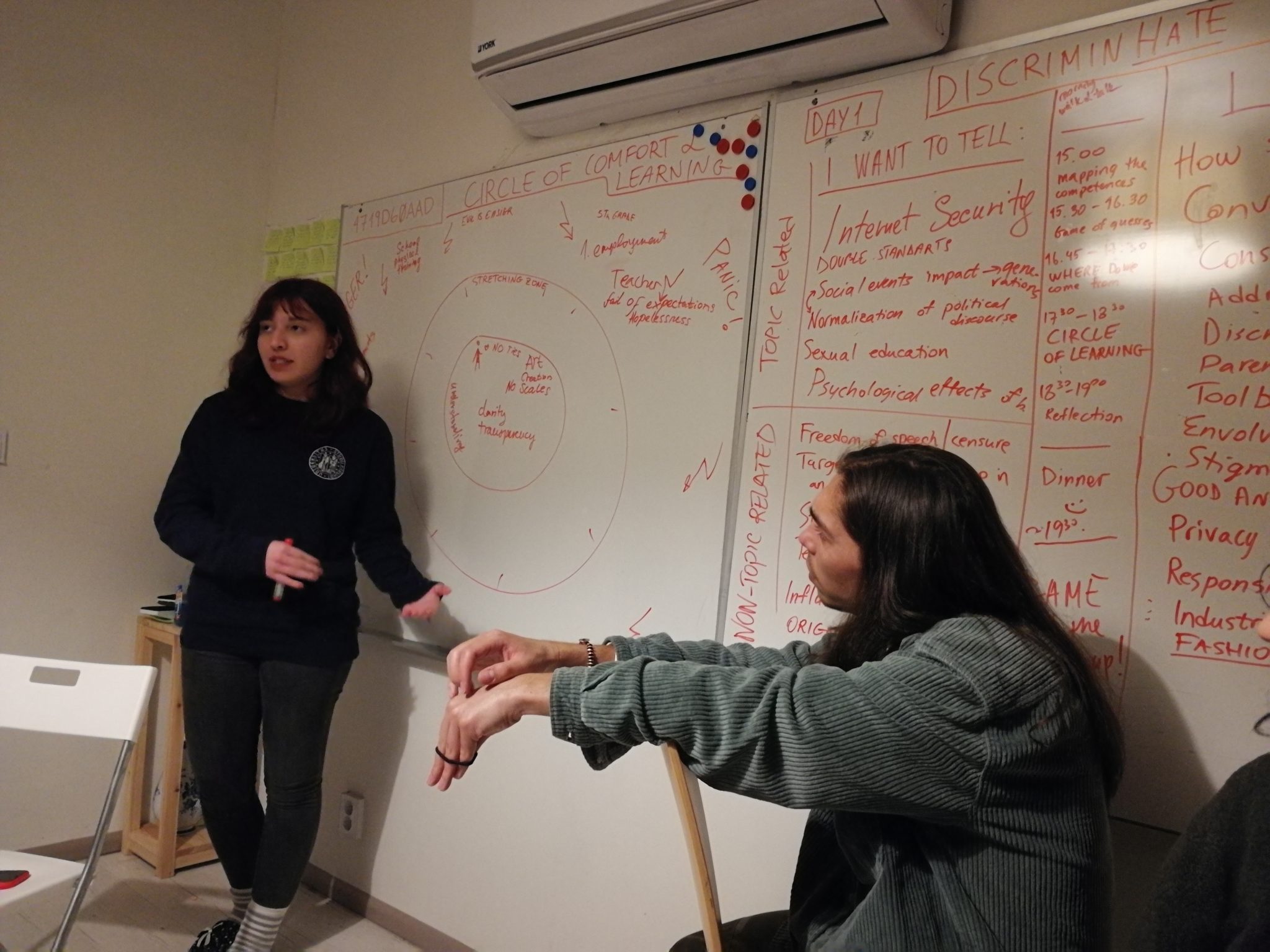 As a result of the training we plan to produce a manual "Educate not to Hate", including guidelines to recognize body shaming on social media, successful models of existing initiatives and programmes addressing the issue, and a Toolkit of tailored non-formal methods workshops created by the youth workers.
Update and and second newsletter!
Phew!!! second part fo the project has passed and what a journey it was!
What we have achieved:
≠ building a new cluster of organisations with specific focus on topics of bullying, discrimination, body shaming, manipulation and psychological oppression.
≠ models of behavior for young people in risk of executing or experiencing bullying or discrimination;
≠ civil courage and active citizenship achieved by introduction of simple steps and simple methodology of approach towards information that spreads,
≠ Methodology of building upp a framework of influence/impact with three bearing legs: physical spaces, creative ice-breakers and conversation starters, and physical safe non-prestigious spaces for young people to be in.
≠ open dialogues about body shaming, group pressure, guilt, silence, manipulation, discrimination extrapolated between social, political and personal issues,
≠ de-dramatizing of public participation, opinion and decision making and active intervention.
≠ creative tools for work on reflections on difficult topics possible to use with young people.
≠ articulation of obstacles on the way to efficient work with issues of discrimination, body shaming and bullying.
≠ change of perspective from tool-oriented, to perspective and framework-oriented with a higher lever of ownership and influence from young people themselves.
≠ recognition of personal experience and background of youth workers as influencing factor on the outcomes of the work with with matters of discrimination, bullying and body shaming.
≠ lack of evaluation of youth voices and initiatives, presumption of mandate in decision making ("public officials know better" stops young people and empowers public employees, which is not always a most efficient way).
≠ "Weather girl circle": a clear visual presentation of areas of life related to body shaming, bullying and discrimination around Europe as presented and discussed by participants.
≠ Clear visual representation of directions of work for relevant issues by the participants regardless specific projects or tools that provides guidelines for continuous sustainable work rather than punctual measures.
≠ Propositions of specific initiatives within a frame of impact made by young people: small talk circles, bad thoughts waste bin, good thoughts wall, girls' and boys' houses, peer mentorship, spontaneous visual poetry, co-creation, gamified reflections.
≠ a proposition of an umbrella project for initiatives led by young people agains body shaming as a counterweight to the visual culture of sexuality and consumerism.
≠ technics of deconstructing storytelling through the matrix of unknown/known/presumed background.
≠ collaboration between formal and non-formal education stakeholders for successful social and cultural integration with focus on countering bullying and discrimination.
Most important, here comes the manual Educate Not to Hate that was produced in a process of intense co-creation, full of learnings and insights.

In a shorter version, please check out our newsletter with some highlights of the youth exchange that took place 7-15 May 2022.